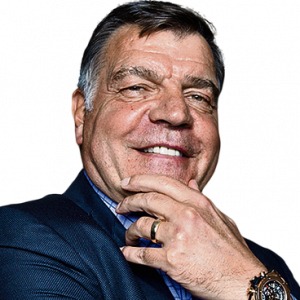 Samuel Allardyce (born 19 October 1954), colloquially referred to as Big Sam, is an English football manager and former professional player who is currently the manager of Premier League club West Bromwich Albion.
Allardyce made 578 league and cup appearances in a 21-year career spent mostly in the Football League, as well as brief spells in the North American Soccer League and League of Ireland. He was signed by Bolton Wanderers from Dudley Town in 1969 and spent nine years at Bolton, helping the club to win the Second Division title in 1977–78. He spent the 1980s as a journeyman player, spending time with Sunderland, Millwall, Tampa Bay Rowdies, Coventry City, Huddersfield Town, Bolton Wanderers (for a second spell), Preston North End, and West Bromwich Albion (also working as assistant manager). During this time he helped Preston to win promotion out of the Fourth Division in 1986–87.
Allardyce has been labelled a long ball manager by some analysts, though he has disputed this perception as "totally and utterly wrong". He takes a modern, technology and statistics centred approach to tactics and coaching, and has been praised for his organisational and man-management skills.
Allardyce has been criticised for alleged corruption and has twice been the subject of undercover media investigations. In September 2006, he and his son, Craig, were implicated in a BBC Panorama documentary for taking bribes, allegations which they denied. In September 2016, undercover Daily Telegraph reporters posing as businessmen recorded him offering to help them to get around FA third party ownership rules and provisionally agreeing a £400,000 contract. Following the Daily Telegraph investigation, Allardyce resigned as England manager in a mutual agreement with the Football Association on 27 September.