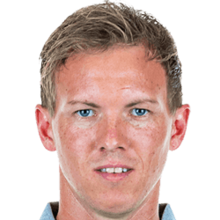 Julian Nagelsmann (born 23 July 1987) is a German professional football coach who is the manager of Bundesliga club RB Leipzig.
On 21 June 2019, RB Leipzig announced that Nagelsmann would be their manager from the 2019–20 season and signed a four-year contract which would expire in 2023. Nagelsmann won his first Bundesliga match as RB Leipzig manager against FC Union Berlin 4–0, he also led Leipzig to a 1–1 draw against FC Bayern Munich. On match-day 10 Leipzig won against Mainz 8–0. Nagelsmann faced his former club Hoffenheim on match-day 14 and won 3–1 against them.
On 10 March 2020, following Leipzig's 4–0 win against Tottenham Hotspur, Nagelsmann became the youngest coach in history to win a UEFA Champions League knockout tie.
On 13 August 2020, RB Leipzig defeated Spanish side Atlético Madrid 2–1 in the Champions League Quarter Final, meaning Leipzig would progress to the Champions League Semi-Final for the first time in their history. Nagelsmann became the youngest coach in history, therefore, to coach a side in a Champions League Semi-Final.
On 18 August 2020, RB Leipzig played against Paris Saint-Germain in the Champions League Semi-Finals, where Nagelsmann faced his former boss during his time at Augsburg, Thomas Tuchel. However, RB Leipzig lost 3–0 to Paris Saint-Germain.