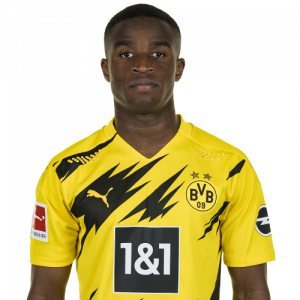 oussoufa Moukoko (born 20 November 2004) is a German professional footballer who currently plays as a striker for Bundesliga club Borussia Dortmund. He is known for his scoring ability. Born in Cameroon, Moukoko represents Germany at youth international level.
Early career
Moukoko played in the under-13 team of FC St. Pauli from 2014 to 2016 and scored 23 goals in 13 games as a striker. In July 2016, he was transferred to Borussia Dortmund's youth academy. He played as the only 13-year-old in the Under 17 Bundesliga for Dortmund. Moukoko moved up to the under-19 team for the 2019–20 season at the age of 14, scoring six goals in his first match in the Under 19 Bundesliga in a 9–2 win against Wuppertaler SV. He completed his first UEFA Youth League match on 17 September 2019 against FC Barcelona, becoming the youngest player to be fielded in the competition. On 23 October 2019, Moukoko scored the opening goal in a game against Inter Milan, making him the youngest scorer in the Youth League.
Borussia Dortmund
Since January 2020, Moukoko has also been allowed to train with BVB's senior team under Lucien Favre. As the previous DFB age restrictions were changed in 2020, he became eligible to play in the Bundesliga after his sixteenth birthday. On 21 November, a day after turning sixteen, he made his debut for Dortmund as an 85th-minute substitute for Erling Haaland against Hertha BSC. With the appearance, he became the youngest player in league history, breaking the previous record of 16 years and 334 days held by Nuri Şahin. The away match finished as a 5–2 win for Dortmund. On 8 December, Moukoko made his debut for Dortmund in the UEFA Champions League as a substitute against Zenit Saint Petersburg, becoming the youngest player in the competition's history at the age of 16 years and 18 days. This broke the record previously held by Celestine Babayaro of 16 years and 87 days. He made his first start for Dortmund in the Bundesliga on 15 December against Werder Bremen, and scored his first goal three days later against Union Berlin. In doing so, he became the youngest goalscorer in Bundesliga history at the age of 16 years and 28 days, surpassing the record of 17 years and 34 days held by Florian Wirtz.