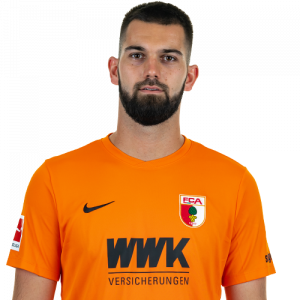 Tomáš Koubek (born 26 August 1992) is a Czech professional footballer who plays as a goalkeeper for FC Augsburg. Koubek made his league debut for Hradec Králové in a 2–1 win against Mladá Boleslav on 30 April 2011.
In October 2016, his club ordered him to train with their women's team for stating "women belong at the stove" in reaction to a decision against him by a female assistant referee, Lucie Ratajova.
On August 6, 2019, FC Augsburg announced the transfer of Koubek from Rennes for an undisclosed transfer fee. He also signed a four-year contract with the club.
In October 2015, Koubek was called up to the Czech Republic senior squad for a UEFA Euro 2016 qualifier against the Netherlands. He was part of the Czech Republic squad that competed at the 2016 UEFA European Championships.