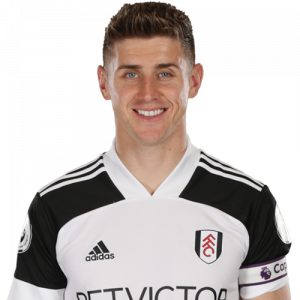 Thomas Cairney (born 20 January 1991) is a professional footballer who plays as a midfielder for Premier League club Fulham, whom he captains, and the Scotland national team. Cairney has previously played for Hull City and Blackburn Rovers. Born in England, he made his full international debut for Scotland in March 2017. Cairney had previously represented Scotland at under-19 and under-21 levels.
Cairney signed for Fulham on 26 June 2015 for an undisclosed fee, signing a four-year contract. The move for Cairney reportedly cost £3 million. Cairney was given the number 10 shirt for the new season, succeeding Bryan Ruiz, who departed the club in the summer transfer window.
Cairney made his Fulham debut, where he started and played the whole game, in a 1–1 draw against Cardiff City. In a follow up match on 15 August 2015, he scored his first goal for the club in a 2–1 defeat at home to Brighton & Hove Albion on 15 August 2015 and then scored again in a 2–1 loss against Hull City four days later on 19 August 2015. Despite the defeat, he was named the club's Man of the Match. His goal against Brighton & Hove Albion earned him August's Goal of the Month. He then scored again on 19 September 2015, in a 3–2 loss against Sheffield Wednesday. However, in a 3–0 loss against Wolverhampton Wanderers on 29 September 2015, Cairney was sent–off for "a two-footed tackle" on Adam le Fondre in the 35th minutes. After serving a three match suspension, he regained his first team place since returning and played the most of the season in the right-hand side of midfield. Cairney then ended his four months goal drought when he scored and set up a goal, in a 3–1 win over rivals, Queens Park Rangers on 13 February 2016. Following the match, he named Man of the Match. After scoring three more goals, including a brace with a 3–0 win over Charlton Athletic on 20 February 2016, his performance throughout February earned him a Championship Player of the Month. On the last game of the season, Cairney scored the only goal in the game, with a 1–0 win over Bolton Wanderers. Despite being sidelined on two occasions later in the season, Cairney scored 8 times in the total of 42 appearances in all competitions. In his first season at the club, he finished second place for the club's Player of the Season, behind Ross McCormack. During the season, he became a subject chant from Fulham supporters: 'Ain't nobody like Tom Cairney'.