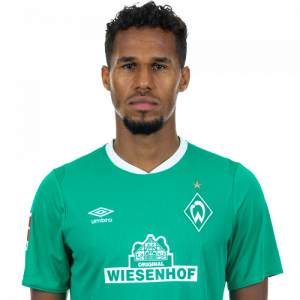 Theodor Gebre Selassie (born 24 December 1986) is a Czech professional footballer who plays for German club Werder Bremen, either as a right-back or as wing-back.
He earned 54 caps and scored three goals with the Czech national team.
Having won the Czech First League with Slavia Prague in 2008 and Slovan Liberec four years later, he then signed for Bremen on a four-year contract.
Gebre Selassie made his international debut for the Czech Republic in 2011, becoming their first player of African descent. He was selected in their squad for UEFA Euro 2012 and UEFA Euro 2016.
Werder Bremen
After playing all four of the Czech Republic's matches at UEFA Euro 2012, Gebre Selassie was signed by Werder Bremen of the German Bundesliga on a four-year deal on 22 June. On 24 August 2012, he scored a goal in Bremen's first game of the season, heading an equaliser in a 1–2 away loss against reigning champions Borussia Dortmund. Gebre Selassie made 24 starts that season, with the opening day goal being his only of the season.
In the 2013–14 season, Gebre Selassie made only 18 starts, coming on as a substitute 11 times and scoring his only two goals of the season in the final three matches. He missed the first 8 games of the 2014–15 season with an ankle injury. After coming on as a substitute in his first appearance of the season, he started the final 25 matches of the season under manager Viktor Skrypnyk, whose first match of the season after taking over for Robin Dutt coincided with Gebre Selassie's first start. On 18 February 2015, Gebre Selassie signed a contract extension with Werder Bremen, keeping him at the Weserstadion through the 2017–18 season. Gebre Selassie also scored three goals on the season.
Gebre Selassie was a fixture in Skrypnyk's lineup at right back during the 2015–16 campaign, making 33 starts in the Bundesliga, as well as playing the full-time in all 5 of the club's DFB-Pokal fixtures during their run to the semi-finals. On 8 November, he picked up a concussion following a collision with goalkeeper Felix Wiedwald toward the end of a match at Augsburg, causing him to miss their next match against Wolfsburg. Gebre Selassie scored his only goal of the season on 5 March against Hannover 96, also tacking on an assist in the 4–1 victory.
After Werder lost their first 5 matches of the 2016–17 season, including a first round upset in the DFB-Pokal to third tier Sportfreunde Lotte, resulting in the sacking of Skrypnyk, Gebre Selassie scored a stoppage time winner against Wolfsburg to give the club their first points of the season, after Lennart Thy had equalized five minutes prior in the 2–1 victory. During the season, he made 30 league appearance scoring 5 goals.
In July 2017, Gebre Selassie extended his contract with Werder Bremen.
In February 2019, he made his 200th Bundesliga appearance for the club.