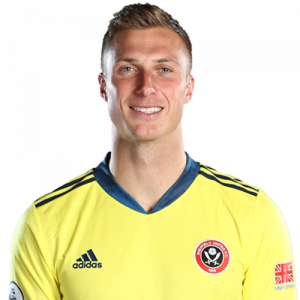 Simon William Moore (born 19 May 1990) is an English professional footballer who plays as a goalkeeper for Sheffield United. He has also represented Isle of Wight.
Born in Sandown on the Isle of Wight, Moore started at Brading Town. He was signed by Premier League side Southampton academy. Moore revealed he was released by the club for being too small. He returned to Isle of Wight based side Brading Town, before signing for Farnborough.
Moore signed with Brentford in August 2009 after spending the summer at the club on trial, but had to wait until May 2010 to make his debut, when he appeared against Hartlepool United as a substitute for regular number one goalkeeper Wojciech Szczęsny.
On 29 July 2013, Moore was signed by Malky Mackay a four-year deal with newly promoted Premier League side Cardiff City. After failing to displace David Marshall, Moore was sent out on loan to Bristol City on 30 January 2014, not long after new manager Ole Gunnar Solskjær took charge of Cardiff. He was sent out on loan to get a regular run of games. Whilst out on loan to Bristol City, Cardiff were relegated from the Premier League.
In August 2016, Moore entered talks with League One club Sheffield United over a move, worth around £500,000. He signed a three-year contract with the club on 19 August. He was named in the PFA League One Team of the Year after leading Sheffield United to promotion. At the start of the 2020/21 season, Moore was not included in the 25-man Premier League squad.