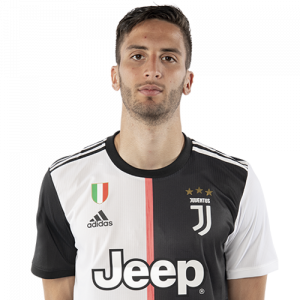 Rodrigo Bentancur Colmán (born 25 June 1997) is a Uruguayan professional footballer who plays as a midfielder for Serie A club Juventus and the Uruguay national team.
He started his career in the youth system of Argentine side Boca Juniors in 2009. He was promoted to the senior squad in 2015, and won two Primera División titles and a Copa Argentina with the team. He was signed by Italian club Juventus in 2017, where he won three consecutive Serie A titles, among other trophies.
At international level, he was a member of the Uruguay U20 squad that won the 2017 South American U-20 Championship. He also made his senior debut for Uruguay in 2017, and later took part at the 2018 FIFA World Cup and the 2019 Copa América.
Bentancur formally became a player of Juventus on 1 July 2017, after the club activated the option to sign him in April 2017, in a deal which would keep him at the club until 2022. The first option to sign Bentancur was bought as part of Carlos Tevez's deal in July 2015. He made his club debut on 26 August 2017, coming on as a substitute in a 4–2 away win over Genoa in Serie A.
On 6 October 2018, Bentancur scored his first goal for the club in a 2–0 away win over Udinese in Serie A.