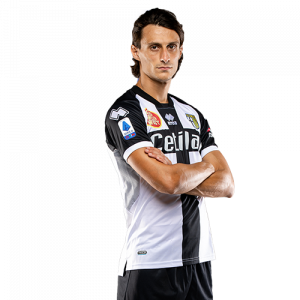 Roberto Inglese (born 12 November 1991) is an Italian professional footballer who plays as a striker for Serie A club Parma.
Pescara
Born in Lucera, Apulia, Inglese started his professional career at Abruzzo club Pescara. At young age, Inglese had played for Pescara under-18 reserve B team at Berretti League in 2006–07 season.
Chievo
On 28 August 2010, Chievo signed Inglese for €600,000 and Francesco Dettori for €50,000 in co-ownership deal. Co-currently Chievo sold Luca Ariatti to Pescara for €650,000 Thus made the deal a pure swap. On 31 August 2010, Inglese left for Lumezzane in temporary deal, re-joining Chievo teammate Lucas Finazzi.
Carpi (loan)
On 2 September 2013, Inglese was signed by Carpi. Inglese scored his first goal for Carpi in the 2–0 victory away to Spezia on 7 September 2013. Inglese made 21 appearances for Carpi as they went on to finish 12th in Serie B.
Carpi (second loan)
In July 2014, Inglese once again re-joined Carpi on loan, until 30 June 2015. Inglese scored his first goals of his second loan spell on 15 November 2014, a brace in a 5–2 win against Cittadella.
Return to Chievo
After two years on loan at Carpi, Inglese returned to Chievo and made his first appearance for the club as well as his Serie A debut on 20 September 2015 in the 0–1 home defeat to Internazionale. He opened his scoring account later on 2 November where he scored his team's only goal in the 1–1 draw against Sampdoria, which was followed by two goals in the next two matches, the first against his former side Carpi and the second against Udinese, striking from 25 metres in an eventual 2–3 home loss.
Parma
Despite being acquired by Napoli in 2017, Inglese never played for gli Azzurri and, on 16 July 2019, he returned at Parma on loan with an obligation to buy after the 2018–19 season.