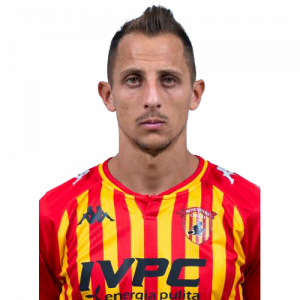 Riccardo Improta (born 19 December 1993) is an Italian footballer who plays as a forward for Benevento.
Improta played for Genoa reserve in Campionato Nazionale Primavera. He played 9 games in 1 goal in the second half of 2011–12 season. He also played the first round of the playoffs that losing to ACF Fiorentina.
On 22 June 2012 Genoa excised the option to sign Improta outright, for €150,000. He left for Gubbio's pre-season camp. However, he was allowed to join S.S. Juve Stabia on 4 August 2012.
On 2 July 2013, Improta left for Chievo on loan, with an option to buy. In January 2014 Chievo bought him in a co-ownership deal for a peppercorn of €500. However, he left for Padova immediately.
In June 2014 Improta returned to Genoa for an undisclosed fee.
On 1 September 2014 Improta left for Bologna.
On 18 July 2015 Improta was signed by Cesena on a temporary basis. On 19 August 2016 Improta left for Salernitana in another loan. Before he left Genoa, he was assigned number 16 shirt.
On 11 July 2017 Improta was signed by Bari.
On 1 July 2018, Improta signed with Serie B club Benevento.