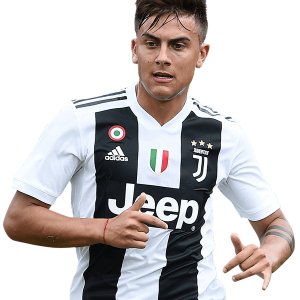 Paulo Exequiel Dybala (born 15 November 1993) is an Argentine professional footballer who plays as a forward for Serie A club Juventus and the Argentina national team.
Considered one of the world's most valuable players, he is commonly referred to as "La Joya" ("The Jewel") due to his creative style of play, pace, talent, technique and eye for goal. Palermitans also refer to him as "U Picciriddu" ("The Kid" in the Sicilian dialect), because of his young age at the time of his signing for Palermo.
After beginning his career in Argentina with Instituto de Córdoba in 2011, Dybala moved to Italian club Palermo in 2012. He played three seasons for Palermo, two in Serie A and one Serie B in 2013–14. In 2015, he joined Juventus for an initial fee of €32 million and has since made over 100 appearances for the club, winning the double of Serie A and Coppa Italia in his first three seasons, as well as two more consecutive league titles, and two Supercoppa Italiana titles. He has also been named in the Serie A Team of the Year four times and won the Most Valuable Player award for the 2019–20 season.
Dybala made his senior international debut for Argentina in 2015, representing his nation at the 2018 FIFA World Cup and the 2019 Copa América. In the latter tournament, he scored the game-winner to help his nation finish in third-place.
On 20 October 2020, Dybala made his first appearance of the season in Juventus's opening Champions League game, coming on as a second–half substitute in a 2–0 away win over Dynamo Kyiv. Dybala scored his first goal of the season on 4 November against Ferencváros in a 4–1 win during a Champions League group stage match. After being sidelined for months due to injury, Dybala made his return on 7 April 2021, scoring the winning goal of a 2–1 home win over Napoli. On 12 May, he scored a goal in a 3–1 away win over Sassuolo, to reach his 100th goal for Juventus in all competitions, hence he became the first non-European player in doing so.