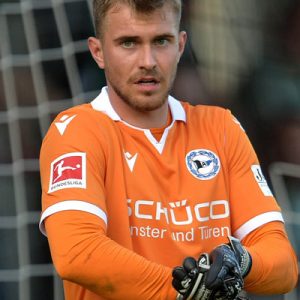 Nikolai Rehnen (born 4 February 1997) is a German professional footballer who plays as a goalkeeper for Arminia Bielefeld.
Goalkeeper Nikolai Rehnen began his career at Spvg Steinhagen and moved to Arminia Bielefeld's youth department at the age of ten. In 2012 he was promoted to the Bundesliga with the B-Jugend and played 20 games in the league in the 2013/14 season. Then he moved up to the A-Jugend, with whom he was relegated from the Bundesliga in the 2014/15 season. Rehnen then moved up to the second men's Arminia team. There he was used 41 times in the fifth-class Oberliga Westfalen between 2015 and 2017.
In the 2017/18 season Rehnen moved up to the squad of the professional team playing in the 2nd Bundesliga. As number two behind Stefan Ortega Moreno, Rehnen remained without commitment. In February 2018 he extended his contract until 2021.
In order to maintain match practice, Rehnen was loaned out to third division Fortuna Köln for two years in the summer of 2018.  On July 28, 2018, he made his professional debut in the 4-1 defeat of Cologne against Preußen Münster and subsequently became the goalkeeper. In the spring of 2019 Rehnen relegated the Fortunes from the 3rd division and therefore returned to Bielefeld prematurely.
In the summer of 2019, the keeper and his Bielefeld teammate Can Özkan were loaned to the regional league team Alemannia Aachen without any further activities for the East Westphalia region. As a representative of Ricco Cymer, Rehnen only played once in the Middle Rhine Cup and missed a large part of the season due to a meniscus injury.