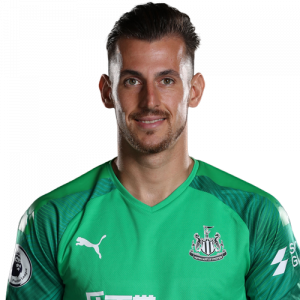 Martin Dúbravka (born 15 January 1989) is a Slovak professional footballer who plays as a goalkeeper for Premier League club Newcastle United and the Slovakia national team.
In January 2018, Newcastle United showed interest in Dúbravka, initially offering Sparta Prague a loan for €500,000, with an option to sign in the summer for €4.5 million. He finally joined the Premier League side on 31 January 2018, the final day of the winter transfer window on a half-year loan deal, due to expire at the end of 2017–18 season. According to isport.cz, he joined the club for €2 million, with an option to sign in the summer for €4 million.
He made his debut on 11 February, playing a pivotal role and keeping a clean sheet in a 1–0 win against Manchester United.He became the sixteenth Slovak player and only the second Slovak goalkeeper, after Ján Mucha, to start in a Premier League fixture.
Dúbravka is a third-generation goalkeeper: his father and grandfather also played in the position.Dúbravka has been dubbed the "quintessential sweeper-keeper" due to his "outstanding footwork" and he believes "in modern football the keeper's almost like a libero. You need to play with the ball, not just kick it long".