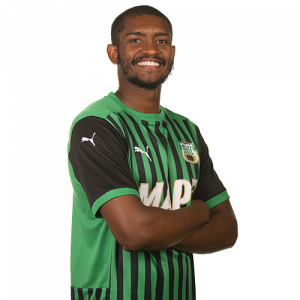 Marlon Santos da Silva Barbosa (born 7 September 1995), simply known as Marlon, is a Brazilian professional footballer who plays as a centre-back for Italian club Sassuolo.
Fluminense
Santos joined the Fluminense academy at the age of 14, after progressing through the youth ranks, he made his debut for Fluminense at the age of 18, in the Campeonato Brasileiro Série A, versus São Paulo in a 5–2 victory. Marlon also made his Copa Sudamericana three months and six days later. Marlon went on to have 51 appearances for Fluminense until he was loaned out on a season-long loan to the Barcelona B team.
Barcelona
On 8 June 2016, Marlon Santos signed for Barcelona on a season-long loan. Marlon made his debut for the main squad of Barcelona on 23 November 2016 in a Champions League Group C game against Celtic, coming on as a substitute in the 72nd minute for Gerard Piqué. He made his debut in La Liga against Las Palmas.
After impressing on loan at Barcelona/Barcelona B, Marlon Santos was signed by Barcelona from Fluminense for €5 million signing a four-year contract. After going to the United States with Barcelona during pre-season, Ernesto Valverde decided to loan him out to French club Nice.
Nice (loan)
In August 2017, Nice signed Marlon Santos on a two-year loan with an option to buy at the end of the loan for €20 million. He made his debut for Nice against Monaco in a 4–0 win. However, his loan ended early at the end of the 2017–18 season as manager Patrick Vieira announced that Marlon will no longer form part of his squad.
Sassuolo
On 16 August 2018, Marlon Santos signed to Italian Serie A club Sassuolo for an initial fee of €6 million with a buy-back clause for Barcelona. Upon 50 games played Sassuolo would owe Barcelona another €6 million.