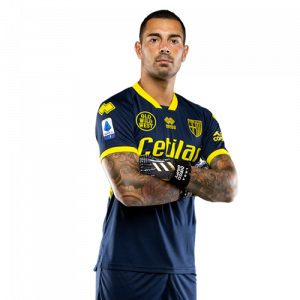 Luigi Sepe (born 8 May 1991) is an Italian professional footballer who plays for Parma as a goalkeeper.
Born in Torre del Greco, the Province of Naples, Sepe made his debut for his hometown club in Serie A on 28 January 2009, at age of 17, during the match against Fiorentina, lost 2–1. He replaced Gianello in the 32nd minute. He wore the number 44 jersey during the 2008–09 season. He was the fourth keeper behind Gennaro Iezzo, Nicolás Navarro and Matteo Gianello.
In 2010–11 season, he was named in 2010–11 UEFA Europa League as list B member (U21 youth product), which he was the fourth keeper behind Morgan De Sanctis, Iezzo and Gianello.
From 2011 to 2018, Sepe was loaned out to different italian teams such as Pisa, Virtus Lanciano, Empoli and Fiorentina.
On 10 July 2018, Sepe signed with Parma on loan until 30 June 2019. On 10 July 2019, the deal was made permanent.