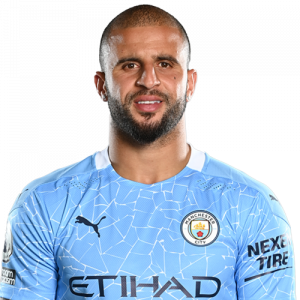 Kyle Andrew Walker (born 28 May 1990) is an English professional footballer who plays as a right-back for Premier League club Manchester City and the England national team.
On 14 July 2017, Walker signed a five-year contract with Tottenham's Premier League rivals Manchester City, in a transfer reported to be worth an initial £45 million fee, rising to £50 million with add-ons, making it one of the most expensive football transfers.
He made his competitive debut for City against Brighton on 12 August 2017, a game where many media outlets labelled him as the best player.However, during Walker's home debut for Manchester City he was sent off for two yellow card offences against Everton, which was thought to be a harsh decision by referee Bobby Madley. Walker was selected and part of the squad that beat Arsenal 3–0 at Wembley Stadium in the 2018 EFL Cup Final to claim his and City's first trophy of the 2017–18 season.
Walker signed a new contract with the club in June 2019.
On 6 November 2019, in a Champions League away match against Atalanta, Walker volunteered to go in goal for the last 10 minutes after substitute goalkeeper Claudio Bravo was sent off; he did not concede as the match ended 1–1.
On 5 April 2020, the club began a disciplinary procedure against Walker after it was reported that he had broken national lockdown rules and invited two sex workers to his home amid the global coronavirus pandemic. On 7 May 2020, it was again reported that he had broken lockdown rules by travelling to Sheffield to give a present to his sister and hugging her. He later admitted that he also visited his parents to pick up food. Manchester City said they would not discipline him for this, citing the trip's being for personal reasons. He later tweeted that he felt he and his family were being harassed and that the reports were affecting the mental health of his whole family.