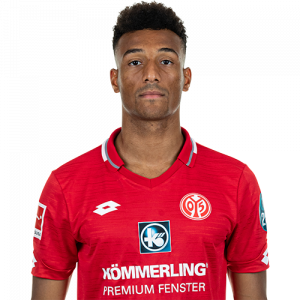 Karim Onisiwo (born 17 March 1992) is an Austrian professional footballer who plays as a forward for Mainz 05.
Under the previous amateur coach Sandro Schwarz, who was promoted to coach of the professional team before the start of the 2017/18 season, the still ailing Onisiwo hardly found a place in the team. He was out for a few months again due to a shoulder injury with subsequent surgery and was only able to start team training again during the winter break. Due to his training deficit, it took a few weeks before Onisiwo was allowed to sit on the bench again in the 22nd championship round. For the most part he only came on short assignments until the end of the season. As in the previous season, Mainz were involved in the relegation battle until the end of the 2017/18 season and ended the season in 14th place in the table. In the DFB-Pokal 2017/18, Onisiwo, who had made two appearances, ended in the quarter-finals against Eintracht Frankfurt.
In the subsequent 2018/19 season, the Austrian developed into a prominent player. Except for a few minor injuries, such as a concussion, Onisiwo remained consistently healthy, but was initially sent to the field as a substitute for a few minutes, in addition to a few longer assignments. By spring 2019 at the latest, he was regularly in the starting lineup and had scored seven goals in 26 league games at the end of the season. In the 2018/19 DFB Cup, he and his team were eliminated in the second round against FC Augsburg.
On December 5, 2020, the 10th matchday of the 2020/21 season, Onisiwo was substituted on in the 58th minute in the away game against Arminia Bielefeld (2-1) and made his 100th league appearance.
His contract in Mainz runs until 2022.