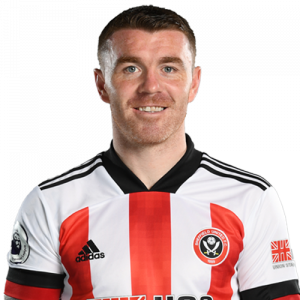 John Alexander Fleck (born 24 August 1991) is a Scottish professional footballer who plays as a midfielder for Premier League club Sheffield United.
He began his career with Rangers, making his senior debut in 2008 aged 16, being hyped in the media as a future star, and later spending a period on loan to Blackpool. In 2012 he transferred to Coventry City, remaining there until 2016 when he joined Sheffield United, helping the club achieve two promotions in three years, moving up from League One to the Premier League.
Fleck was born in Glasgow and was brought up in the city's Yoker district; he was educated at Knightswood Secondary School. His uncle, former Scotland international Robert Fleck, played for Rangers, Chelsea and Norwich in the 1980s and 1990s.
Fleck signed a three-year contract with Sheffield United in July 2016. He scored his first goal for the club in a 4–1 win over Chesterfield on 13 November 2016. On 8 April 2017, Fleck scored a late winner against Northampton Town at Sixfields Stadium – the fans reacted by running onto the pitch to celebrate promotion. On 15 April 2017, United were crowned League One champions and promoted to the Championship. On 22 September 2017, Fleck signed a new four-year contract with the club to keep him at Bramall Lane until summer 2022.
Fleck has won the Player of the Year award twice whilst at Sheffield United, once in the 2016–17 season (tied with teammate Billy Sharp) and again the next year.
On 28 April 2019, Fleck saw his second promotion in three seasons with United, this time to the Premier League, the club returning after a 12-year absence.
On 22 February 2020, Fleck signed a new three-year deal.