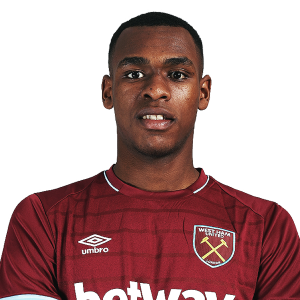 Issa Laye Lucas Jean Diop (born 9 January 1997) is a French professional footballer who plays as a centre-back for Premier League club West Ham United.
Diop's grandfather, Lybasse Diop, played for Bordeaux and was the first Senegalese footballer in Ligue 1. He is also of Moroccan descent through his mother.
Diop, at 1.94 m (6 ft 4 in) in height, has been credited as being "a tremendous athlete, excellent in the air and quick across the ground" by football magazine FourFourTwo. He has played mainly as a right-sided centre-back. Along with the two red cards received in 2015–16, Diop amassed 25 yellow cards over the course of his three seasons at Toulouse.
On 19 June 2018, Premier League club West Ham United confirmed the transfer of Diop, who signed a five-year contract. The fee, reported by British media as £22 million, was not disclosed but was announced as a club record, beating the previous record of £20 million set in July 2017 with the signing of Marko Arnautović. Diop made his Premier League and West Ham debut on 25 August. In a 3–1 away defeat by Arsenal, he scored an own goal and in doing so became the first West Ham player to score an own goal on his debut in the Premier League. Three days later, Diop scored his first goal for the club, in an EFL Cup game against AFC Wimbledon after conceding a goal after only 72 seconds, Diop scored an equalising goal for West Ham who went on to win 3–1. He won early season praise for his performances particularly against Arsenal and against Manchester United whose manager, José Mourinho commended Diop's performance in West Ham's 3–1 win over his club and of the scout who had identified the potential of Diop. On 22 February 2019, Diop scored his first Premier League goal in a 3–1 home win against Fulham. On 22 September 2020, Diop was pulled from the West Ham squad before their EFL Cup game against Hull City after testing positive for COVID-19.