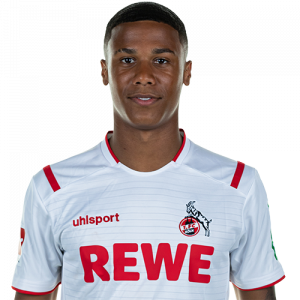 Ismail Jakobs (born 17 August 1999) is a German professional footballer who plays as a left back or left winger for 1. FC Köln.
After starting his career at BC Bliesheim, Jakobs joined the youth academy of 1.FC Köln in 2012. In 2017, having progressed through all of the club's youth sides, he was introduced into Köln's U21 team competing in the fourth-tier Regionalliga West.
Ahead of the 2019–20 season Jakobs was promoted to the club's first team by then manager Achim Beierlorzer. On 8 November 2019, he made his debut appearance in a match against TSG Hoffenheim. On 18 December 2019, Jakobs scored his first goal as a professional in a 2–4 victory against Eintracht Frankfurt. In March 2020, the club announced that Jakobs' contract had been extended until 2022. In October of the same year, he signed a further extension keeping him at Köln until July 2024.