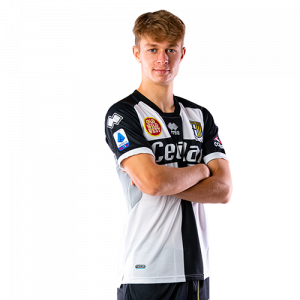 Hans Nicolussi Caviglia (born 18 June 2000) is an Italian professional footballer who plays as a midfielder for Serie A club Parma, on loan from Juventus.
Club career
Nicolussi made his Serie C debut for Juventus U23 on 27 September 2018 in a game against Cuneo as an 88th-minute substitute for Idrissa Touré. On 8 March 2019, he made his Juventus senior debut in Serie A, coming on as a late substitute for Moise Kean in a 4–1 home victory over Udinese.
On 2 September 2019, he joined Serie B club Perugia on loan.
On 5 October 2020, he went to Serie A side Parma on loan. On 28 October, he made his Parma debut in Coppa Italia, starting in a 3–1 home victory over Pescara. On 15 December, during a trainin session, Nicolussi tears his ACL and needs to end his season earlier.
International career
Nicolussi was first called up to represent his country in December 2016 for the Italy U17. He was included in the squad for 2017 UEFA European Under-17 Championship and made one appearance, scoring against Spain as Italy did not advance from the group stage.
He was later called up to the U18 and U19 squads' friendlies. With the Italy U19 squad he took part in the 2019 UEFA European Under-19 Championship.
On 13 October 2020 he made his debut with the Italy U21, playing as a substitute in a qualifying match won 2–0 against Republic of Ireland in Pisa.