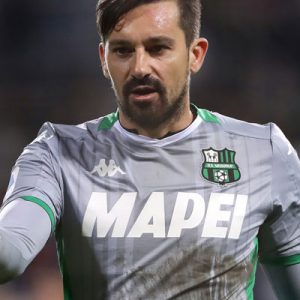 Gianluca Pegolo (born 25 March 1981) is an Italian professional footballer who plays as a goalkeeper for Serie A side Sassuolo.
Early career
Pegolo was born in Bassano del Grappa. He joined Genoa on 6 July 2007 on free transfer. He left for Mantova on 31 August 2007 and then another Serie B club Parma in August 2008, joining Julio César de León and Alessandro Lucarelli. Pegolo was the backup keeper of Nicola Pavarini.
Siena
On 29 June 2009, Pegolo joined Siena for €1 million. On the same day Genoa also signed Houssine Kharja for €6.5 million. Siena also signed the remain 50% registration rights of Manuel Coppola on 26 June for another €1.5 million. He was the backup keeper of Ferdinando Coppola (Željko Brkić in 2011–12 season).