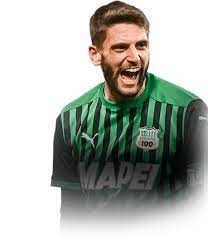 Gian Marco Ferrari (born 15 February 1992) is an Italian professional footballer who plays for Serie A club Sassuolo and the Italy national team as a defender.
Ferrari joined Renate on loan from Parma in the summer of 2011.
On 3 July 2013, he joined Gubbio in a co-ownership deal for €300,000, with Cristian Damiano having also been signed by Parma for the same price. In June 2014 Parma bought Ferrari back for €200,000, bought Luca Procacci outright for €200,000, and sold Giuliano Laezza outright to Gubbio also for €200,000.
On 3 July 2014, he was signed by Crotone on a temporary deal.
In June 2015 Crotone excised the option to sign Ferrari on a permanent deal.
Sassuolo
On 31 August 2016, fellow Serie A club Sassuolo signed Ferrari from Crotone. Ferrari, Diego Falcinelli and Marcello Trotta also joined Crotone on loan for 2016–17 Serie A season.
On 4 August 2017, Ferrari was signed by another Serie A club U.C. Sampdoria.