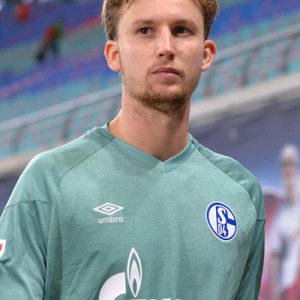 Frederik Riis Rønnow (born 4 August 1992) is a Danish professional association football player in the goalkeeper position, who currently plays for Schalke 04, on loan from Eintracht Frankfurt.
Early career
Rønnow started his career as a youth player at Horsens club Stensballe IK before he at the age of 16 years transferred to AC Horsens. He made his first team debut on 7 September 2011 in a cup match against Holstebro, a game Horsens won 5-0.
Already being the first choice goalkeeper for the Danish U-21 team, and having been awarded the Horsens player of the year award for the 2012/13 season, Rønnow's agent, former Danish international John Sivebæk, expressed his reluctance for his client to be playing in the Danish 1st Division following Horsens relegation from the Danish Superliga. As a consequence, on 5 July Rønnow moved to Superliga club Esbjerg on a year long loan[4] following the departure of Lukáš Hrádecký to league rivals Brøndby IF.
Brøndby
On 10 May 2018 he played as Brøndby beat Silkeborg IF 3–1 in the 2017-18 Danish Cup final.
Eintracht Frankfurt
In April 2018 it was announced that Rønnow would join Eintracht Frankfurt in July 2018, again mirroring the movements of Hrádecký. Rønnow made his debut in the German Super Cup on 12 August 2018.
On 30 September 2020, he joined Schalke 04 on a year-long loan.