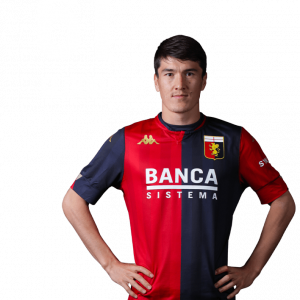 Eldor Azamat oʻgʻli Shomurodov (born 29 June 1995) is an Uzbek professional footballer who plays as a striker for Serie A club Genoa and the Uzbekistan national team.
Club career
Shomurodov started his career at Mash'al Mubarek in 2011, playing for youth team of the club. He played for Mash'al from 2011 to 2014. Shomurodov made his official debut for the main team in the Uzbek League on 12 April 2014 in an away match against Olmaliq. In total he completed 9 caps for the club during the 2014 season. In 2015, he signed a contract with Bunyodkor. He played 19 matches and scored 7 goals in League (as of 1 October 2015).
On 15 July 2017, Bunyodkor announced that Shomurodov is moving to Russian Premier League club FC Rostov.
On 1 October 2020, he moved to Italian Serie A club Genoa. By doing so, he became the second Uzbek footballer to play in Italy, after Ilyos Zeytulayev.
International career
Shomurodov played for the Uzbekistan U19 in the 2014 AFC U-19 Championship and qualified to 2015 FIFA U-20 World Cup. He played in all five matches of U-20 team at the 2015 U-20 World Cup and scored two goals.
Shomurodov and two teammates were listed as nominees for best young players of Asia by AFC in 2015.
Shomurod was called to senior national team to play on 3 September 2015 in 2018 World Cup qualifying match against Yemen. He made his official debut in that match. On 8 October 2015, he scored his first goal for the national team in a WC qualifying away match against Bahrain, securing a 4–0 victory for the Uzbek side.