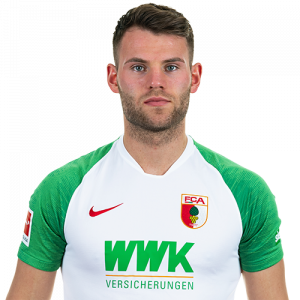 Eduard Löwen (born 28 January 1997) is a German footballer who plays as a midfielder for Bundesliga club Hertha BSC.
Löwen played for SV Hottenbach, 1. FC Kaiserslautern and 1. FC Saarbrücken and moved to 1. FC Nürnberg in 2016. In preparation for the 2016/17 season, he trained with the FCN professionals and was used in several test matches. He made his debut in the 2nd Bundesliga on March 12, 2017 in a 1-0 home win against Arminia Bielefeld. He was also used in the ten subsequent games. With 1. FC Nürnberg he finished second at the end of the season and was promoted to the top German league. There he scored his first Bundesliga goal on February 23, 2019 (23rd match day) in the 2-1 defeat in the away game against Fortuna Düsseldorf with the goal to make it 1-0.
After the midfielder was unable to secure the class with the club, he joined Hertha BSC for the 2019/20 season. For the Berliner, he only played seven Bundesliga games and one deployment in the regional league without being able to show a goal participation.
At the beginning of January 2020, Löwen moved within the Bundesliga for a year and a half on loan to FC Augsburg. There he came to 16 missions (7 times from the start) by the end of the season, in which he scored 2 goals.
After Löwen was not used on the first two match days of the 2020/21 season, the loan was ended in early October 2020 shortly before the end of the transfer period and Löwen returned to Hertha BSC.