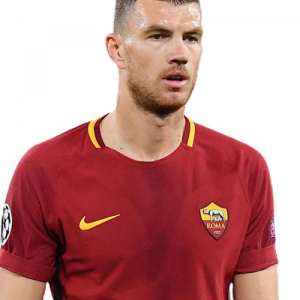 Edin Džeko (born 17 March 1986) is a Bosnian professional footballer who plays as a striker for Serie A club Roma and captains the Bosnia and Herzegovina national team.
Džeko was named Bosnian Footballer of the Year for three years in a row. He has been nicknamed "Bosnian Diamond" (Bosnian: Bosanski dijamant) or simply "Diamond" (Dijamant) by football fans and journalists in Bosnia and Herzegovina. Prior to joining Roma, he played for Manchester City, but he made a name for himself while playing for German club VfL Wolfsburg, with whom he won the Bundesliga in the 2008–09 season. He was second-highest goalscorer with 26 goals. In the 2009–10 season, Džeko was the top scorer with 22 goals. He also registered ten assists in both seasons.
During the 2011–12 Premier League season, Džeko scored four goals in one game for Manchester City against Tottenham Hotspur at White Hart Lane. On the final day of that season, he scored an equaliser against Queens Park Rangers in the 92nd minute, before Sergio Agüero won it for City with seconds to go, ensuring the team won a league title for the first time in 44 years. He later stated that the goal was one of the most important of his career. On 3 March 2018, Džeko scored his 50th league goal for Roma, thus becoming the first player ever to score 50 goals in three of Europe's top five major leagues.
A former youth international for Bosnia and Herzegovina, Džeko made his senior international debut in 2007, earning 114 caps and scoring 59 goals since. Džeko became the highest Bosnia and Herzegovina goalscorer of all time on 7 September 2012 in a game against Liechtenstein where he scored a hat-trick to surpass Zvjezdan Misimović and Elvir Bolić. On 11 September 2018, in a game against Austria, he played his 95th game for Bosnia and Herzegovina and surpassed Emir Spahić to become the country's most-capped player. His ten goals in the qualifying campaign helped his national team qualify for its first international tournament, the 2014 FIFA World Cup.