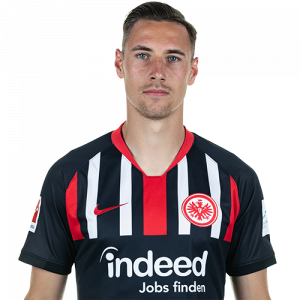 Dominik Kohr (born 31 January 1994) is a German professional footballer who plays as a midfielder for 1.FSV Mainz 05 on loan from Eintracht Frankfurt.
Bayer Leverkusen
Kohr was part of TuS Issel before he came through Bayer Leverkusen's youth system. While progressing his football career, Kohr began playing in defence and midfield positions, unlike his father.
FC Augsburg
Kohr was loaned to FC Augsburg on 13 January 2014 for two seasons, which expires on 30 June 2015. Kohr made his FC Augsburg debut on 1 February 2014, coming on as a late substitute, in a 3–1 win over Werder Bremen. Despite finding himself in a competition with Jan Morávek for the rest of the season.
Return to Bayer 04 Leverkusen
It was announced on 13 April 2017 that Kohr re-joined Bayer 04 Leverkusen, effectively moving on 1 July 2017. The move came after when they used a buy-back clause to sign Kohr, who signed a three–year contract, keeping him until 2020.
Eintracht Frankfurt
On 3 July 2019, Kohr joined Eintracht Frankfurt on a five-year deal.
1.FSV Mainz 05 loan
On 18 January 2021, Kohr joined 1.FSV Mainz 05 on loan until the end of the season.