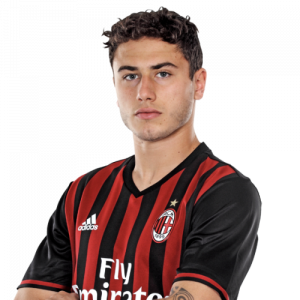 Davide Calabria (born 6 December 1996) is an Italian professional footballer who plays for Serie A club Milan and the Italy national team as a full-back, mainly on the right side of the pitch.
Calabria has been with A.C. Milan since 2006, playing for the club's youth teams of different age groups up until Primavera (U-19). He received his first ever call-up to the senior team ahead of the away game against S.S. Lazio played on 25 January 2015; he, however, remained an unused substitute. He made his Serie A debut on 30 May 2015 against Atalanta, replacing Mattia De Sciglio at the 84th minute in a 1–3 away win. On 15 July 2015 Calabria was officially promoted to the first team. He made his first start in a 3–2 win over Palermo on 22 September, playing 49 minutes, and was highly praised for his performance.
Ahead of the 2017–18 season, Milan acquired Atalanta's Andrea Conti for nearly €25 million, viewing the player as the most likely starter on the right side of the team's defensive line; Calabria had been persuaded yet refused to join one of the lower-ranking Serie A teams on loan to increase his playing time. In September 2017, Conti injured his anterior cruciate ligament for the first time, and in March 2018 suffered a recurrence of the injury, effectively ending his season. The club ruled out the possibility of any further emergency signings, thus trusting Calabria as a long-term replacement for Conti in the right full-back position. He completed the season with 30 appearances in all competitions and scored his debut goal in senior professional football on 25 February 2018 in the Serie A 2–0 away win against Roma.