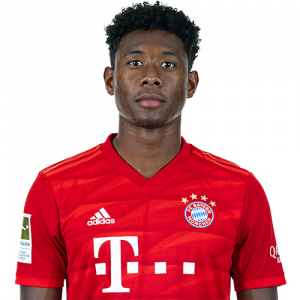 David Olatukunbo Alaba (born 24 June 1992) is an Austrian professional footballer who plays for Bundesliga club Bayern Munich and the Austria national team. A versatile player, Alaba has played in a multitude of roles, including central midfield and right and left wing, but primarily plays as a centre-back or left-back.
Alaba has made over 400 appearances for Bayern Munich since 2010, winning 26 honours including nine Bundesliga titles and the UEFA Champions League in 2013 and 2020. He was voted Austrian Footballer of the Year on seven occasions (including six consecutive times from 2011 to 2016), and named in the UEFA Team of the Year three times.
He holds Austria's record as the second youngest player to play for their senior national team, debuting for them in 2009 as a 17-year-old. He has earned over 70 caps and represented the country at UEFA Euro 2016.
During the 2019–20 season, Alaba primarily played in the Centre Back position, often partnering up with Jérôme Boateng. He adapted to the position very well and soon became the leader of the defense. On 23 August 2020, he played the full 90 minutes at centre-back as Bayern beat Paris Saint-Germain 1–0 in the 2020 UEFA Champions League Final. Bayern Munich went on to have their second remarkable treble-winning season after 2012–13, and thereby Alaba securing his second continental treble in his career.
After several attempts to extend his contract, Alaba mentioned that Bayern Munich asked him earlier whether he was interested in a swap deal with Leroy Sané from Manchester City, which he considered as a "slap in the face".
On 16 February 2021, Alaba announced that he would leave Bayern Munich following the 2020–21 season after thirteen years with the club.