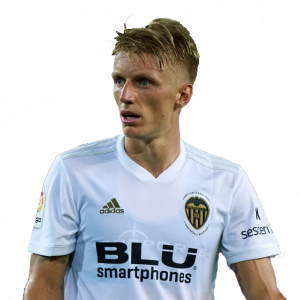 Daniel Wass (born 31 May 1989) is a Danish professional footballer who plays as a utility player for Spanish club Valencia and the Denmark national team.
He is capable of playing as a left-back, right-back, midfielder, and attacking midfielder.
Transfer to Évian
On 20 June 2012, Wass signed with Evian on a permanent basis for a €2.5 million transfer fee. On 12 August 2012, in the opening game of the season against Bordeaux, Wass scored a free kick in a match that ended in a 2–3 loss for Evian. Like in the previous season, Wass played in various positions in defence and midfield. On 26 January 2013, Wass scored a further goal against Ajaccio in a 1–1 draw.
Celta de Vigo
On 22 June 2015, Wass joined Celta Vigo on a four-year contract.
Wass scored a goal and assisted another in a 2–2 draw against Real Madrid.
Valencia
On 10 July 2018, Wass joined Valencia on a four-year deal.