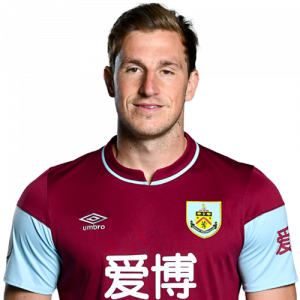 Christopher Grant Wood (born 7 December 1991) is a New Zealand professional footballer who plays as a striker for Premier League club Burnley and for the New Zealand national team, of which he is vice-captain.
Wood was born in Auckland and started his senior career with Cambridge FC, Waikato FC and Hamilton Wanderers before moving to England to play for Premier League side West Bromwich Albion. He spent his time on loan to six different clubs before joining Leicester City in 2015. After a loan spell with Ipswich Town in 2015, he signed for Championship club Leeds United where he became top scorer in the 2016–17 season. He then joined Burnley for a club record fee in the Premier League.
Wood has been capped 57 times for the New Zealand national team, scoring 24 goals. He played for the side at the 2010 FIFA World Cup, and was part of the squad that won the 2016 OFC Nations Cup.
On 21 August 2017, Wood signed a four-year contract with Premier League club Burnley for an undisclosed club-record fee, widely reported as £15 million. Wood made his Burnley debut on 27 August against Tottenham Hotspur at Wembley Stadium in the Premier League, and scored an equaliser in the second minute of stoppage time in a match which finished 1–1.
On 19 September, in the EFL Cup third round, Wood scored against his former club Leeds United at Turf Moor in the 89th minute from a converted penalty kick. The match ended 2–2 after extra time, and Leeds won the match 5–3 on penalties. On 8 November 2019, Wood signed a new contract committing himself to Burnley until 2023.
Wood scored in the final match the 2019–20 season in Burnley's 2–1 defeat to Brighton on 26 July 2020. It was 14th goal of the season, both his highest return in the Premier League and best scoring season overall in a Burnley shirt.
On 6 March 2021, Wood scored his 40th goal in the Premier League in a 1-1 draw against Arsenal, as well as becoming the eighth player in the history of the club who has started 100 Premier League games for Burnley.