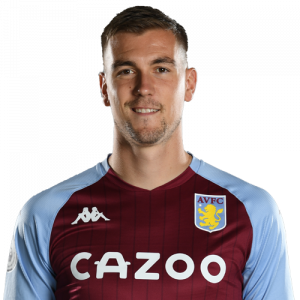 Björn Lionel G. Engels (born 15 September 1994) is a Belgian professional footballer who plays as a centre back for Premier League club Aston Villa.
Club Brugge
Born in Kaprijke, Belgium, Engels first played for FC Kaprijke-Bentille, FC Lembeke and Lokeren as a youth. In 2006, at the age of 12, he joined Club Brugge.
After progressing through the ranks of the academy, Engels appeared as an unused substitute, in a match against Gent on 29 October 2011, which saw Club Brugge win 5–4. On 20 September 2012, he made his professional debut in the UEFA Europa League against Girondins de Bordeaux coming on at half-time for Thibaut Van Acker. Only one minute later he scored an own goal. After the match, Engels described his Club Brugge debut as "very painful". Having finished the 2012–13 season with one appearance, Engels signed his first professional contract with Club Brugge, agreeing a three–year deal.
Olympiacos
In the summer transfer window of 2017, Engels was linked with a move to English sides Arsenal, Fulham and Stoke City. Ultimately, Greek Superleague side Olympiacos agreed with the player's side on 29 August 2017, while Club Brugge agreed on the transfer with Olympiacos for an estimated €7.1 million fee on 30 August 2017.
Loan to Reims
In August 2018, Engels joined Reims, newly promoted to Ligue 1 at the end of the 2017–18 season, on a season-long loan from Olympiacos. Engels performed solidly with Reims throughout the year, playing in 33 Ligue 1 games. Engels helped Reims rise to eighth position in the table.
Reims
On 28 March 2019, Reims announced they had triggered the option-to-buy clause in Engels' contract for an estimated €4 million fee following a strong 2018–19 Ligue 1 campaign.
Aston Villa
On 16 July 2019, Engels signed for Premier League side Aston Villa for an estimated €8 million fee. Reims' director-general Mathieu Lacour and president Jean-Pierre Caillot described that Engels' short time with the club was due to an agreement to allow him to join any Premier League club that made a considerable offer.