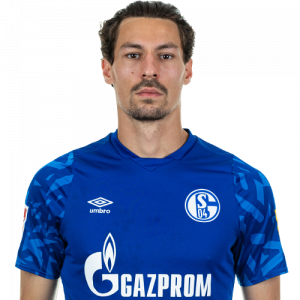 Benjamin Stambouli (born 13 August 1990) is a French professional footballer who plays as a defender and midfielder for Bundesliga club Schalke 04.
He began his professional career with Montpellier, playing 130 games from 2010 to 2014 and winning Ligue 1 in 2012. After a season each with Tottenham Hotspur and Paris Saint-Germain – winning five domestic trophies with the latter – he signed for Schalke in 2016.
Stambouli was a France youth international, having earned 14 caps at under-21 level from 2010 to 2012.
Schalke 04
After spending only one season with the French champions, Stambouli joined Germany's Schalke 04 on a four-year deal on 26 August 2016. He made his debut on 9 September in a 2–0 home loss to reigning champions FC Bayern Munich. On 20 May, he was sent off for unsportsmanlike conduct in the last game of the season, a 1–1 draw at FC Ingolstadt 04, and suspended for two matches.
Stambouli suffered a metatarsal injury in October 2019, ruling him out for the rest of the season. On 4 August 2020, he extended his contract with Schalke until 2023.