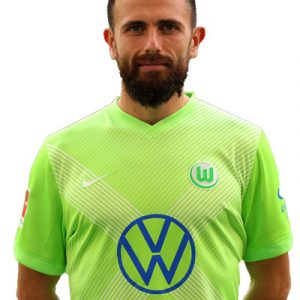 Admir Mehmedi (born 16 March 1991) is a Swiss professional footballer of Albanian descent who plays as a second striker or centre forward for Bundesliga club VfL Wolfsburg and the Switzerland national team.
Zürich
Mehmedi began his senior career with FC Zürich at the age of 17. Within two years he was included in the first-team squad and by 2010 he was a first-team regular. He made his senior side debut on 20 July 2008 and scored two goals in eleven appearances, in addition to winning the Swiss Super League in his debut season with the club.
Being a first team regular in 2010, Mehmedi established himself as a physical striker, excellent in the box as well as having a good turn of pace, he was also technically great. During his time with Zürich, Mehmedi scored nineteen goals and provided nine assists.
In the January transfer window in 2012, Mehmedi moved to Dynamo Kyiv.
Dynamo Kyiv
On 13 January 2012, Mehmedi signed for the Ukrainian club Dynamo Kyiv from FC Zürich on a five-year deal. During his season and a half with Kyiv, he mainly played coming off the bench. Seeking more playing time and to be included again in the Switzerland national team, Mehmedi moved to Bundesliga team SC Freiburg.
Freiburg
On 11 July 2013, Mehmedi moved to SC Freiburg initially to join on loan, although his contract also stipulates that Freiburg have an option to make the move permanent. Freiburg's acting sporting director Klemens Hartenbach stated that he was delighted the transfer went through. Hartenbach stated "He's a very versatile attacking player who understands the game and has already proven he can play at the highest level". On 26 May 2014, Freiburg decided to buy Mehmedi for a reported €6 million after having a good season, scoring 12 goals in 32 games during his loan spell with the Bundesliga side.
Bayer Leverkusen
On 11 June 2015, Mehmedi joined Bayer Leverkusen after Freiburg was relegated from the Bundesliga.
VfL Wolfsburg
On 31 January 2018, Mehmedi joined VfL Wolfsburg on a 4-year-deal for €8 million.