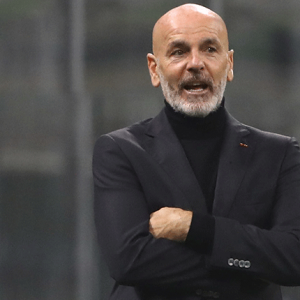 Stefano Pioli (born 20 October 1965) is an Italian football manager and a former footballer who played as a defender. He is the head coach at Serie A club A.C. Milan.
On 9 October 2019, Pioli was appointed as the new coach of Milan, on a deal to the end of the season. On 21 July 2020, Pioli reached an agreement with Milan for a two-year deal extension of his contract as head coach that will now expire in June 2022.
Pioli usually uses a 4–2–3–1 formation, or a 3–5–2 formation, with full-backs or wing-backs who actively take part in the team's attacking plays. During his time at Lazio, he often used a 4–3–3 formation. Due to his passion for basketball, he attempted to bring strategic elements of the sport into his own tactical approach as a football manager. As a head coach of A.C. Milan, Pioli made use of an archaic WM formation, also known as 3–2–2–3. Although presented officially as a 4–3–3, the formation featured the left full-back, Theo Hernandez, in a more advanced position, whereas the right full-back, Davide Calabria's, attacking presence was significantly limited. Another key feature of this formation was in the center, where two pairs of holding and attacking midfielders formed a square, supporting each other offensively and defensively.
However, with the arrival of Zlatan Ibrahimović in January 2020, Pioli switched Milan's formation to his long favored 4–2–3–1, primarily in order to accommodate for the Swedish ageing yet prolific goalscorer, in which he would play up front without much of a defensive work other than pressing, alternating between the roles of a classical striker, a target forward, and a false 9. The switch of formation also allowed Hakan Çalhanoğlu, an attacking midfielder in a number 10 role, to return to his preferred position as a playmaker behind the main striker, out of which he had been playing for years in various other formations. Ante Rebić and Ismaël Bennacer, the two high-profile new arrivals struggling to fit into the previous coach's system, were given a few more opportunities to prove themselves; as a result, the former got to play in his favorite position as a left winger and quickly topped the club's seasonal goalscoring chart, while the latter formed an efficient double pivot with Franck Kessié, who also significantly improved the quality of his performances.