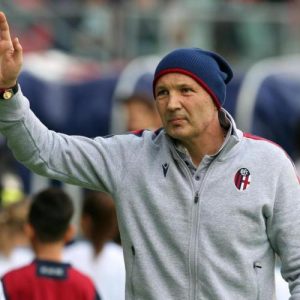 Siniša Mihajlović (born 20 February 1969) is a Serbian professional football manager and former footballer, who is the manager of Serie A club Bologna.
During his career as a footballer, he played as a defender or midfielder. He has 63 caps and scored 10 goals for Yugoslavia from 1991 to 2003, of which his first four caps in 1991 represented SFR Yugoslavia, and played in the 1998 FIFA World Cup and UEFA Euro 2000 tournaments. Considered by many to be among the best free kick takers of all time,[nb 2] he holds the all-time record in Serie A for most goals from free-kicks with 28 goals. He was the coach of the Serbia national football team from May 2012 to November 2013, and holds an Italian passport.
Because of the team's bad results with Filippo Inzaghi, on 28 January 2019, Mihajlović became Bologna manager for the second time in his managerial career.
On his second tenure at Bologna, he achieved an impressive 30 points in 17 games, in comparison with 14 points achieved by his predecessor Inzaghi; thanks to those results, he managed to keep Bologna into the top flight with ease, and was confirmed at the helm of Bologna for the following season.
On 13 July 2019, Mihajlović publicly announced in a press conference he was diagnosed with an acute form of leukemia, with sporting director Walter Sabatini confirming Mihajlović would stay in charge of the club nonetheless.