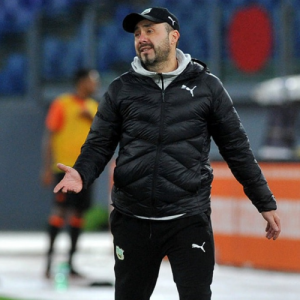 Serse Cosmi (born 5 May 1958) is an Italian football coach who is currently in charge of Serie A club Crotone.
On 27 June 2012, Cosmi was appointed the new coach of Siena in Serie A on a two-year contract, but on 17 December he was sacked.
On 24 February 2014, Cosmi returned into management as new head coach of Serie B club Pescara, replacing Pasquale Marino but failing to turn the team fortunes and missing out qualification for the promotion playoffs. He left the club by the end of the season.
On 11 March 2015, he was named manager of Serie B side Trapani replacing long-serving Roberto Boscaglia. Cosmi led Trapani to the 2016 Serie B promotion playoffs, where they were defeated by Pescara in the final round. He was sacked by Trapani on 28 November 2016, after obtaining only 11 points from the first 16 rounds of the season and having his car set on fire by the club's supporters.
On 7 December 2017, Cosmi was named as the replacement for Fulvio Fiorin at Serie B side, Ascoli. He was replaced by Vincenzo Vivarini on 12 July 2018.
On 6 March 2019, Cosmi was appointed as manager of Venezia FC.
On 4 January 2020, Cosmi returned to Perugia after 16 years, substituting Massimo Oddo. He signed a contract until 30 June.
Cosmi was appointed as manager of Crotone on 1 March 2021, following the sacking of Giovanni Stroppa, signing a contract until the end of the season.