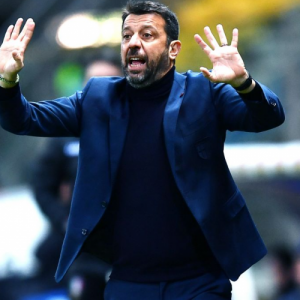 Roberto D'Aversa (born 12 August 1975) is an Italian football manager, and former football player, who played as a midfielder. He is currently the manager of Parma.
A Milan youth product, D'Aversa spent most of his playing career with provincial Serie A clubs and in the lower divisions.
In the 2004–05 season, he was banned for six months for match-fixing. Stefano Bettarini, Antonio Marasco, Maurizio Caccavale, Alfredo Femiano and former Siena teammate Generoso Rossi were also banned.
On 28 January 2007, he played his first Serie A match for Messina against Ascoli.
In January 2009, he was loaned from Treviso to Mantova. In July 2009, he was released due to Treviso going bankrupt. On 5 September 2009, he moved to Gallipoli Calcio. On 22 January 2010, he was transferred to Triestina on a six-month contract. In July 2010, he was signed by Virtus Lanciano on a free transfer.
On 3 December 2016, he was named new head coach of Parma following the sacking of Luigi Apolloni and a short caretaker spell of Stefano Morrone for two games.
On his first season, he guided Parma to win the promotion playoffs after defeating Alessandria in the final.
He was confirmed for the club's 2017–18 Serie B season, on which he successfully led Parma to second place and direct promotion to Serie A on their first season in the second division following the club's refoundation, and a third back-to-back promotion in three years (two of which under his tenure). D'Aversa was confirmed head coach also for the 2018–19 Serie A season.
On 7 June 2020, he said that he had tested positive for COVID-19 amid its pandemic in Italy.
On 23 August 2020, D'Aversa was sacked by Parma with the club citing a lack of unity and enthusiasm for the decision.
On 7 January 2021, D'Aversa was rehired as Parma manager.