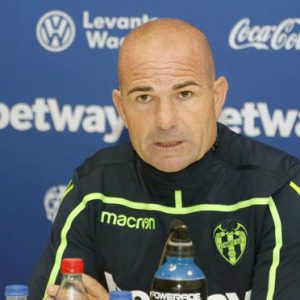 Francisco José "Paco" López Fernández (born 19 September 1967) is a Spanish retired footballer who played as a forward, and is the current manager of Levante UD.
López started working as a manager in 2004, with Villarreal's third team. In July 2008, after three full seasons at Catarroja CF, he signed with a club he had represented as a player, Benidorm.
On 16 July 2009, López was appointed at CD Alcoyano also in the third division. He was dismissed on 11 April 2011, after falling from first to fourth in only five matches.
On 27 May 2011, López joined division two club FC Cartagena. He was relieved of his duties on 19 September, after failing to collect one single point in the first four games.
López returned to Mestalla on 24 October 2012, replacing the fired Sergio Ventosa. On 17 June of the following year, after narrowly avoiding relegation from the third tier, he left and returned to Villarreal C on 13 November.
On 22 May 2014, López was promoted to the reserves after the departure of Lluís Planagumà. On 22 June 2017, he moved to another reserve team, Atlético Levante UD also in the third division.
On 4 March 2018, López was named manager of the main squad following the sacking of Juan Ramón Muñiz. His first match in La Liga took place six days later, and he led his side to a 1–0 away win against Getafe CF.
López signed a one-year contract with an option for a further season on 8 May 2018, and five days later his team ended FC Barcelona's unbeaten league run by defeating the opposition 5–4 at home.