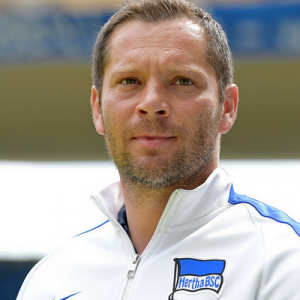 Pál Dárdai (born 16 March 1976) is a Hungarian retired footballer who played mainly as a defensive midfielder, and current coach of German club Hertha BSC.
In a 20-year professional career, he played for over a decade with the same club, Hertha BSC, in Germany. With 286 Bundesliga appearances, he is the club's most capped player. Dárdai gained 61 caps for the Hungary national team in 12 years, and also worked as the country's manager.
Born in Pécs, Dárdai began his professional career with local Pécsi Mecsek FC, moving in January 1996 to Budapesti VSC. He helped his new club finish second in both the league and cup.
In January 1997, Dárdai signed with Germany's Hertha BSC, appearing in ten matches for the 2. Bundesliga side before the end of the season, as the club was promoted to the top-flight Bundesliga. In 1998–99, he made 21 appearances (6 as a starter) as Hertha finished in third place, behind second-placed Bayer Leverkusen by one point.
On 13 November 2008, Dárdai marked his 250th Bundesliga appearance during the 1–0 win against 1899 Hoffenheim. Following the match, he thanked "the team and the fans".
On 16 January 2009, Dárdai damaged his meniscus during training. He was operated on by Gert Schleicher after returning to Berlin from Marbella in Spain, where Hertha spent their winter training camp.
Hertha extended Dárdai's contract by one year on 28 May 2009, and he became the club's longest-serving player.
He expressed his wish to further extend his link, stating, "I can imagine that I will end my career here in Berlin, but before I return to Hungary I want to fulfil my ambition and that is to win the championship and the cup." Dieter Hoeneß responded by saying the club would also like to keep him.
Dárdai helped The Old Lady qualify several times for the UEFA Cup, appearing sparingly from 2004 to 2006 (33 total matches) but featuring heavily in the following years. From 2009, his appearances became less and less frequent: after only one match in the 2010–11 campaign – with eventually returning to the top level – and being demoted to the reserve team, the 35-year-old retired from football, having appeared in 297 league contests.
Dárdai began playing for Hungary with the under-21s, in 1996. He made his senior debut in a friendly against Slovenia on 19 August 1998, and scored his first international goal on 10 October in an UEFA Euro 2000 qualifier against Azerbaijan, in the 58th minute of a 4–0 triumph.
Often cast as starting central midfielder alongside Krisztián Lisztes, under managers Bertalan Bicskei and Imre Gellei, Dárdai captained the national side seven times in 2006, netting twice. On 15 November 2006, he was not included in Péter Várhidi's provisional 25-man squad for the Euro 2008 qualifying phase, but featured in the 2010 FIFA World Cup qualifying campaign as Hungary was now managed by Erwin Koeman.