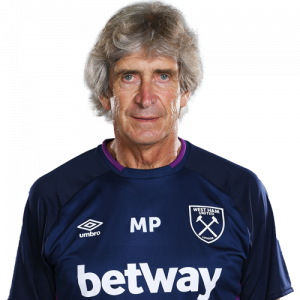 Manuel Luis Pellegrini Ripamonti (born 16 September 1953) is a Chilean professional football manager and former player who is the manager of Real Betis. As a coach, he has managed teams in Spain, England, Argentina, Chile, China and Ecuador. Pellegrini has won national leagues in four countries.
Pellegrini moved to Europe in 2004 to take the manager's post at Spanish side Villarreal. Under Pellegrini, Villarreal achieved a third-place finish in La Liga in 2004–05, a Champions League semi-final in 2005–06 and broke the big two in 2008 by securing a second-place finish in La Liga in 2007–08.
Pellegrini's consistent record at Villarreal attracted the attention of Real Madrid and he was appointed manager there in 2009. He amassed a total of 96 points, a club record until it was surpassed by José Mourinho in the 2011–12 season, but lost the title to Barcelona by three points. He was dismissed after one season and later lamented the Galácticos policy employed at Real which prevented him from building a balanced team.
Pellegrini took up the manager's role at Málaga in November 2010. He led Málaga to a fourth-place finish in his first full season and to qualification for the UEFA Champions League. He made it to the quarter-finals of the 2012–13 Champions League, becoming the only coach to take two teams to the Champions League quarter-finals in their debut seasons in the competition. On 22 May 2013, Pellegrini confirmed he would leave Málaga at the end of the 2012–13 La Liga season. On 14 June 2013, he was appointed manager of Manchester City, and won the Football League Cup and Premier League in his first season as manager, in the process becoming the first manager from outside Europe to manage a team to the English Premier League title. The title winning season was also noted for goal scoring prowess with Manchester City scoring 151 goals in all competitions – an English football record. Pellegrini also managed to take Manchester City to their first ever semi-final in Champions League in 2015–16, which was his last season after finishing in fourth-place with 66 points. He managed Hebei China Fortune from 2016 to 2018 before leaving the position in May. He was appointed as manager of West Ham United in May 2018 and lasted 18 months in charge before he was sacked in December 2019 after a poor run of results. On 9 July 2020 Spanish club Real Betis announced that he would be managing the side for the 2020–21 season.