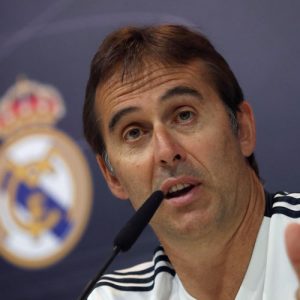 Julen Lopetegui Agote (born 28 August 1966) is a Spanish football manager and former player, and the current manager of Sevilla.
A goalkeeper, he played 149 La Liga matches over nine seasons, representing Real Madrid, Logroñés, Barcelona and Rayo Vallecano in the competition. He added 168 appearances in the Segunda División for three clubs, winning one cap for Spain and being a member of the squad at the 1994 World Cup.
Lopetegui started working as a manager in 2003, and spent several years in charge of Spain's youth teams, leading the under-19 and under-21 sides to European titles. He was also head coach of the senior national team for two years, but was dismissed before the start of the 2018 World Cup following the announcement of his agreement to join Real Madrid after the tournament. In club football, he has managed Rayo Vallecano, Castilla, Porto, Real Madrid and Sevilla, winning the 2020 Europa League with the latter side.
On 5 June 2019, Lopetegui was appointed as the new Sevilla FC manager on a three-year contract. In his first year, they finished fourth to qualify for the Champions League, and on 21 August they defeated Inter Milan 3–2 in the 2020 UEFA Europa League Final, his first club honour.
Lopetegui agreed to a further two-year extension on 10 January 2021.