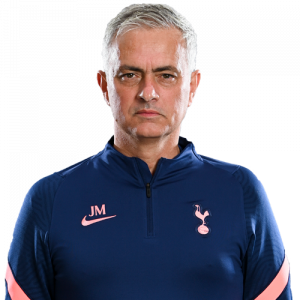 José Mário dos Santos Mourinho Félix (born 26 January 1963) is a Portuguese professional football manager and former player who is the head coach of Premier League club Tottenham Hotspur. He is widely considered to be one of the greatest managers of all time, and is one of the most decorated managers ever.
After an uneventful career as a midfielder in the Portuguese leagues, Mourinho moved into coaching, first as an interpreter for Sir Bobby Robson at Sporting CP and Porto, before gaining success as an assistant at Barcelona under both Robson and his successor, Louis van Gaal. After impressing with brief managerial stints at Benfica and União de Leiria, Mourinho returned to Porto as manager in 2002, where he won the Primeira Liga twice, a Taça de Portugal, the UEFA Cup, and the UEFA Champions League, Porto's first European Cup title since 1987. That success earned him a move to England with Chelsea in 2004, where he won two Premier League titles, a FA Cup, and two League Cups in his three seasons at the club, before he departed in 2007 amid reports of disagreements with club owner Roman Abramovich.
In 2008, Mourinho joined Italian club Inter Milan, where he won the Serie A title in his first season. In 2010, he led Inter Milan to a European treble of Serie A, the Coppa Italia, and the UEFA Champions League, a first for an Italian club. This made him one of five coaches to have won the European Cup with two clubs, and later that year, earned him the first FIFA World Coach of the Year award. Mourinho then moved to Real Madrid, where he won La Liga in 2011–12 with a record points tally, becoming the fifth coach to have won league titles in four countries. He also won a Copa del Rey and a Supercopa de España.
Mourinho left Real Madrid in 2013 and rejoined Chelsea, where he won another league title and League Cup, but was dismissed in 2015 after a poor run of results. In May 2016, Mourinho was hired by Manchester United, where he won the UEFA Europa League, League Cup, and FA Community Shield in his first season. In 2018, after seeing Manchester United suffer a poor run of results in the Premier League, he was sacked.
In 2019, he became manager of Tottenham Hotspur.
He was named Portuguese Coach of the Century by the Portuguese Football Federation (FPF) in 2015, and was the first coach to spend more than £1 billion on transfers. Due to his tactical knowledge, charismatic and controversial personality, and a reputation for getting results over playing beautiful football, he has drawn comparisons, by both admirers and critics, with Argentine manager Helenio Herrera.