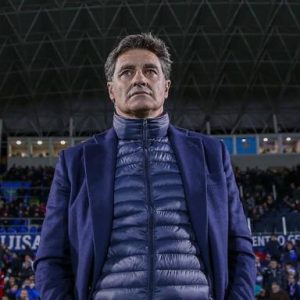 José Miguel González Martín del Campo, known as Míchel (born 23 March 1963), is a Spanish former professional footballer who played as a right midfielder, and is the current manager of Getafe.
He was most noted for his stellar crossing ability, also contributing with a fair share of goals. During his career he represented mainly Real Madrid – over a decade – achieving great team and individual success.
Míchel earned nearly 70 caps for Spain from 1985 to 1992, and appeared for the nation in two World Cups (scoring four goals in the 1990 edition) and one European Championship. He started working as a manager in 2005, notably leading Olympiacos to two Super League Greece accolades.
In the summer of 2005, after working as a sports commentator with RTVE after his retirement (still active, he had already worked in the capacity at the 1994 World Cup) and also writing articles for Madrid's Marca, Míchel was appointed manager of Rayo Vallecano. The following year he returned to his alma mater as director of Real Madrid's sports city, the entire youth system, and manager duties at Real Madrid Castilla, where he coached one of his sons, Adrián; under his management the side dropped down a level into the third and he was sacked, also leaving his post in the youth sides due to disagreements with president Ramón Calderón.
On 27 April 2009, Míchel was appointed as coach of top flight strugglers Getafe CF until the end of the season. He replaced former FC Barcelona midfielder Víctor Muñoz,[15] and also managed Adrián, helping the club avoid relegation in the last matchday, and renewing his contract for two more years in the following week; he was relieved of his duties at the end of 2010–11, with the team again managing to stay afloat after finishing 16th, just one point clear of the relegation zone.
Míchel joined Sevilla FC on 6 February 2012, replacing fired Marcelino García Toral and signing until the end of the season. On 14 January of the following year, after a 0–2 away loss to Valencia CF that left the Andalusians in 12th place, he was relieved of his duties.
Míchel moved to Olympiacos F.C. in the Super League Greece on 1 February 2013, penning a contract until June 2015. In his first 18 months in charge, he won two national championships and the 2013 Greek Cup; he was fired on 6 January 2015, whilst the side was still competing in the Europa League and only a point behind PAOK FC in the domestic campaign.
On 19 August 2015, Míchel succeeded Marcelo Bielsa at the helm of Olympique de Marseille. He was sacked the following 19 April due to concerns over his behaviour, with the team ranking 15th in Ligue 1.
Míchel became Málaga CF's third manager of the season on 7 March 2017, following Juande Ramos and Marcelo Romero. He signed until 30 June 2018 but, on 13 January of that year, with his team in last position, he was relieved of his duties.
On 20 May 2019, Míchel was appointed at Club Universidad Nacional of the Mexican Liga MX. He resigned from office on 23 July 2020, due to personal and family issues.