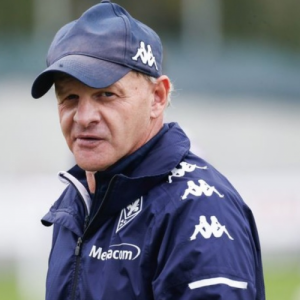 Giuseppe Iachini  (born 7 May 1964) is an Italian professional football manager and former player who is currently in charge of Serie A club Fiorentina. He played as a midfielder.
Iachini was born in Ascoli Piceno. He started his playing career at Ascoli, and made his Serie A and professional debut during the 1981–82 season, at the age of 17. He played for Ascoli until 1987, when he signed for Verona.
In 1989, Iachini moved to Fiorentina and played five seasons with the viola, four of them in Serie A. From 1994 to 1996 he played for Palermo of Serie B. After a single Serie B season with Ravenna, in 1997 Iachini transferred to Venezia, where he played for three years, two of them in Serie A. He retired in 2001, after a Serie C1 season with Alessandria.
As a player, he represented the Italy Olympic side at the 1988 Summer Olympics at international level, where they finished in fourth place.
On 23 December 2019, Iachini was unveiled as the new manager of Fiorentina, his former club as a player. He succeeded Vincenzo Montella. On 9 November 2020, Iachini was sacked.
On 24 March 2021, Iachini was rehired as Fiorentina manager after Cesare Prandelli resigned