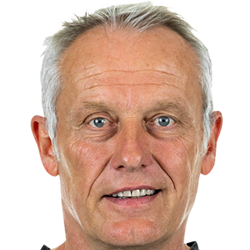 Christian Streich (born 11 June 1965) is a German professional football manager and former player who is the manager of Bundesliga club SC Freiburg. On 29 December 2011, he was named manager following the release of Marcus Sorg. Because of his immediate success at the club and his enigmatic and, oftentimes, energetic personality, Streich has been called a "cult figure", a "firebrand", and a "football philosopher".
Streich began his youth career in 1983 with Freiburger FC in the second division of Baden-Württemberg. In his first season with the club, Freiburg won the championship, but was defeated in the promotion round to reach the 2. Bundesliga. After a further season with FFC, Streich was transferred to the Stuttgarter Kickers in 1985. He left a little over a year later to play for SC Freiburg in the 2. Bundesliga.
After a season with SCF in which he made 22 appearances and scored 2 goals, Streich left the club and went to the second-division team FC 08 Homburg, with which he obtained the vice championship and promotion into the top national league in 1989. In the 1989–90 season, Streich made ten appearances for Homburg. In 1991, Streich transferred back to Freiburger FC and played there until his playing career was cut short by a broken metatarsal in 1995.