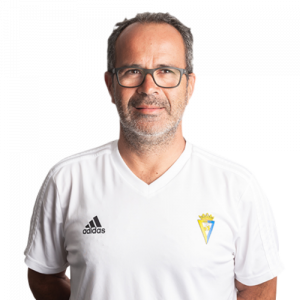 Álvaro Cervera Díaz (born 20 September 1965) is a Spanish football manager and former player who played as a winger. He is the current manager of Cádiz CF.
He amassed La Liga totals of 261 matches and 17 goals over 12 seasons, representing in the competition Racing de Santander (two spells), Mallorca and Valencia.
Cervera became a manager in 2002, going on to work with a host of clubs.
Cervera took up coaching in 2001, working with amateurs Catarroja CF in several capacities. From 2004 to 2011 he managed almost exclusively in Segunda División B, and his first job at the professional level arrived in 2011–12 when he was appointed at Recreativo de Huelva in division two; however, in March 2012, he arranged to have his contract terminated when he received an offer from former side Racing Santander in the top tier, but he only collected three draws in his 13 games in charge to become the competition's worst ever debutant, and was not renewed.
On 3 July 2012, Cervera signed with Tenerife where he had already played youth football more than 30 years ago. Shortly before achieving promotion to the second division in his debut season, he renewed his link until 2015, being however relieved of his duties on 2 February 2015 even though he had a contract running until 2018.
On 18 April 2016, Cervera replaced Claudio Barragán at the helm of Cádiz CF, and managed to achieve promotion to the second level at the end of the campaign. After coming fifth the following season, the team qualified for the play-offs for top-flight promotion, losing on regulations after a 1–1 semi-final draw to CD Tenerife in June 2017; promotion was finally gained in July 2020, ending a 14-year exile.
A quote from Cervera, "La lucha no se negocia" ("The fight is non-negotiable" in Spanish), was adopted by Cádiz as a club catchphrase shortly after his arrival.