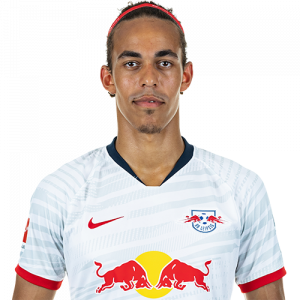 Yussuf Yurary Poulsen (born 15 June 1994) is a Danish professional footballer who plays for Bundesliga club RB Leipzig and the Denmark national team as a striker or winger.
He also sometimes used Yurary as his shirt name.
After starting his professional career with Lyngby, he transferred to RB Leipzig in 2013, helping them to consecutive promotions from the 3. Liga to the Bundesliga. He holds the RB Leipzig record for most appearances with over 250, and has scored over seventy goals for the club.
Poulsen made his international debut for Denmark in 2014 and has earned over fifty caps. He was part of their squad at the 2018 FIFA World Cup.
His achievements attracted the interest of foreign and domestic clubs, and on 3 July 2013, he signed a contract with the newly promoted 3. Liga German side RB Leipzig. He finished the 2013–14 season with 10 goals in 27 appearances. Poulsen earned promotion with Leipzig to the 2. Bundesliga in 2014 and the German top-flight Bundesliga in 2016. He had scored 12 goals in 32 appearances during the 2014–15 season and seven goals in 32 appearances during the 2015–16 season. In the sixth match of the 2016–17 season, he scored his first Bundesliga goal in a 2–1 victory at home against FC Augsburg. He finished the 2016–17 season with five goals in 30 appearances. He finished the 2017–18 season five goals in 41 appearances.
On 30 March 2019, during a 5–0 win over Hertha BSC, he became the first-ever Leipzig player to score a hat-trick in the Bundesliga and in the process helped the club record its 50th ever win in the competition. His treble also took him to 15 league goals for the campaign which meant he became only the third Danish player, after Ebbe Sand and Allan Simonsen to score more than 14 Bundesliga goals in a single season.
Poulsen became the first Leipzig player to 250 appearances on 24 May 2020, when he scored in a 5–0 win at 1. FSV Mainz 05.