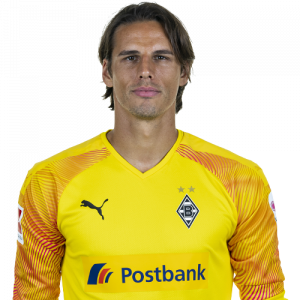 Yann Sommer (born 17 December 1988) is a Swiss professional footballer who plays as a goalkeeper for Borussia Mönchengladbach and the Swiss national team.
Sommer completed his apprenticeship at Basel, where he won the Swiss Super League on four consecutive occasions before transferring to Mönchengladbach in 2014. He also won the Swiss Challenge League and two Liechtenstein Football Cups while on loan to Vaduz.
Sommer made his debut for the Switzerland national team in 2012. He represented the nation at the 2014 FIFA World Cup, UEFA Euro 2016 and the 2018 FIFA World Cup.
On 10 March 2014, Sommer signed a five-year contract with German Bundesliga side Borussia Mönchengladbach, effective from 1 July. He was signed to replace Marc-André ter Stegen, who had joined Barcelona. In Sommer's first season at Mönchengladbach, 2014–15, Gladbach finished in third place in the Bundesliga, club's highest league finish since 1978. The club also managed to beat its record of consecutive matches without defeat, exceeding the record of 17 matches it had set during the 1970–71 season.